Bev loves maps and to 'crunch numbers'. She's spent the last few days doing just that, as it's been raining (and very cold) now we're back home in Derbyshire! Here's a few statistics and a Google map with some selected photos from the blog.
Diesel and distances
Total distance we travelled was 5,274 miles. The longest day driving was 367 miles and the shortest only 15 miles. Looking back, there are some places we could maybe have stayed longer. There weren't many rest days from some driving, but we both enjoyed 'moving on' quite often. With fuel consumption at 39mpg and diesel prices in Spain, France and Germany less that the UK we were pleasantly surprised by the total diesel costs of £1,240 (20% of the total costs). We'd reckoned on having to spend more than this on fuel. However, having decided to use the French motorways on the way south, to find the sunshine more quickly, we spent £280 on tolls (5% of the total costs, but this includes €40 for the Swiss vignette – valid until the end of 2023).
Overnight parking/campsite fees
We'd reckoned on around £15 per night fees for parking the van. This was significantly cheaper, on average over the whole trip, at only £9 per night. This includes the week we parked the van at the Schilthornbahn carpark while we were up at Murren: only €42 for the week. We spent £460 on parking (8% of the total costs) with 30 overnight stopping places under £12 per night including 18 that were free. In France and Spain, some of the free or very cheap overnight places even included services eg fresh water, grey/black water disposal and even electric hook-ups.
Follow our route on Google Maps
Brexit, ETIAS and the 90-day rule
According to the stamps in our passports (to conform with new Brexit rules), we arrived in Schengen (Dieppe) 29 January and departed (Dunkerque) 18 March: 49 days of our 90/180 allowance. There's a handy 'Schengen calculator' to help plan when we can go to the EU/Schengen again! It's a bit clunky, but illustrates how the system works quite well. Good news (for us) is that ETIAS doesn't come into force until 2024, when the proposed 3-year visa will be free if you're over 70!
Ferries, LPG and phones
It was pretty cold in places, and we had to fill up with LPG several times to keep the heating going when it was sub-zero! There was no problem finding places to fill up, much easier than in the UK. Total cost for LPG £63 (1% of total). There were two ferries, both very reasonably priced with DFDS. Roaming charges of £40 for the phones are included in this total of £224 (4% of the total costs).
A week at Murren
We generally reckon on £3,500 for a week's ski-ing for us both and the total for this element of the whole trip was only £1,860 (30% of the total spend but only 14% of the time away). This cost doesn't include travel to/from Switzerland (part of the overall trip), but does include our share of self-catering accommodation, food/drink, lift passes, ski/toboggan rental and travel insurance.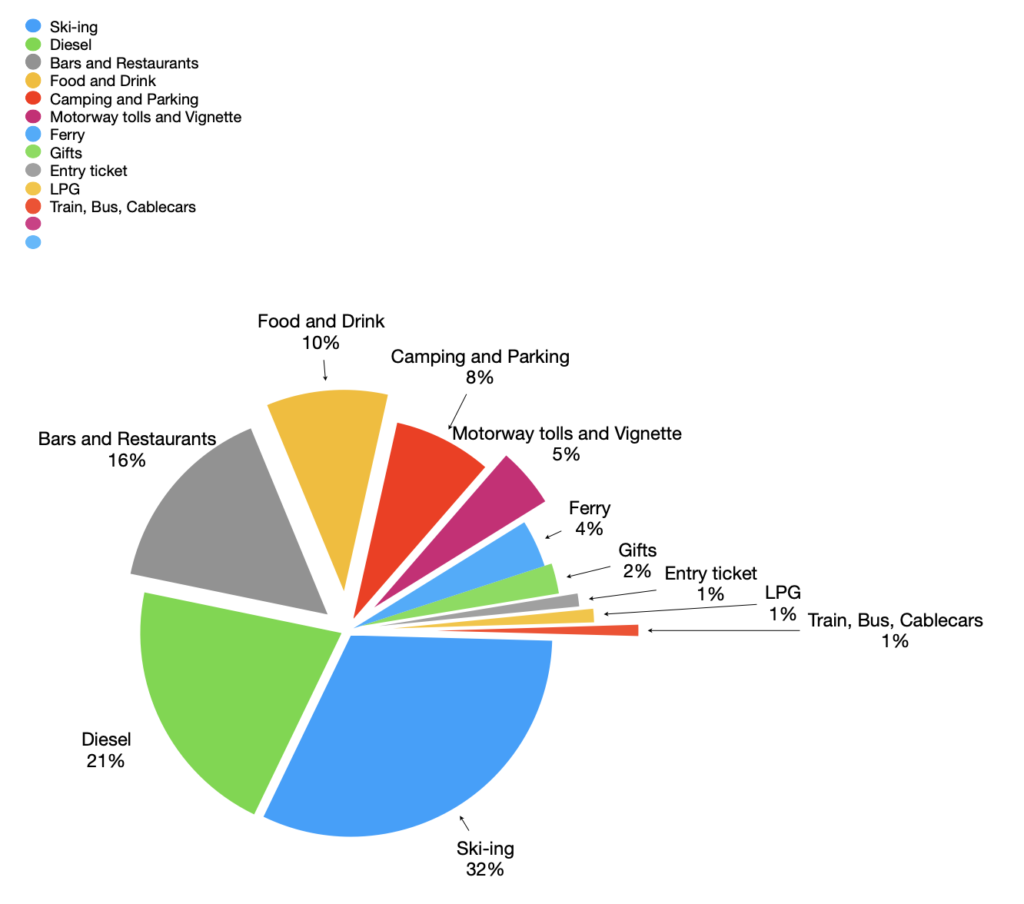 Food, drink and eating out
These costs may look high, representing 26% of the total but have to be balanced against not spending at home. The £571 on food and drink is probably less than what we would have spent at home in a couple of months. When shopping we found everything was a bit cheaper than in the UK, even in Switzerland for most things. We spent more in restaurants and cafes than we would at home, but that's part of being on holiday! We've also checked the gas/electricity bills since going away and probably saved about £450 on energy not used.